Available dates
25 Dec – 11 March every week
Day 1: Tehran-Shiraz (1 Hr. flight)
early check in to Tehran hotel for rest ,  visiting Tehran Golestan Palace world (registered site in UNESCO world heritage), visit Iran National Museum with astonishing historical objects since the 5th millennium B.C to the 7 century A.D, After lunch, a short photo stop by Azadi Tower (Tower of Freedom), attending in Mehrabad Domestic airport to fly to Shiraz, the city of poet and literature. Upon arrival to Shiraz, you will be transferred to Hotel. Time permitting; walking around Qur'an Gate. O/N Shiraz.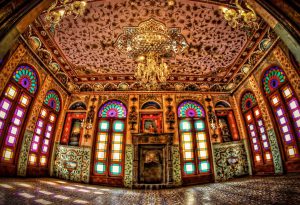 Day 2: Shiraz
A full day tour of Shiraz. Visit the Pink Mosque, Eram Garden, world (registered site in UNESCO world heritage), Karim khan Citadel (a residential – military palace of 18 century). Then visit Valik Bazaar, and Saraye Moshir, where you can feel the daily life of people of Shiraz. After lunch, visit the tomb of Hafiz one of our most outstanding world famous poet. O/N Shiraz
Day 3: Shiraz-Yazd (500 Km Drive)
After breakfast, drive to Yazd, the city in the heart of desert. On the way to Yazd, visit two World Heritage Sites: Persepolis, the fabulous art of ancient Persia, and Pasargadae, the first Capital of Persian Empire and the tomb of Cyrus the Great. Also, visiting Naghshe-e Rostam (Necropolis), the rock tomb of four Achaemenian Kings and Sassanid reliefs. Arriving in Yazd, transfer to Hotel. A short walk around Amir Chaqmaq square, where our religious events happens from Safavid Dynasty to the contemporary period, and old streets of Yazd. O/N Yazd
Day 4: Yazd
A full day excursion in Yazd including visit the Fire temple of Zoroastrians, and Tower of Silence, the grave yard of them. Walk around the old area of the city and visit Yazd Jame mosque, and Fahadan district to feel the desert architecture and culture of Iran, visit Zoor khaneh, a sport Place with thousand years of history. O/N Yazd
Day 5: Yazd-Isfahan (300 Km Drive)
Visit the Dowlat Abad Garden and wind tower, with the highest wind tower in the world (registered site in UNESCO world heritage). Drive to Isfahan. On the way to Isfahan, visit City of Meybod to see a Caravansary with 400 years of history, Pigeon Tower, and Mud-brick ice house. Visit City of Naein to see the old Jame Mosque. Arrive in Isfahan. In the evening walk around Sio Sepol Bridge (33-Bridge) over Zayandeh Rood River. O/N Isfahan
Day 6: Isfahan
A full day sightseeing in Isfahan including Khaju and Shahrestan bridges, visit Chehel Sotun Place, the reception palace of Safavid Dynasty and Naghshe-e Jahan (Imam) Square, the second biggest square through the world that is registered in UNESCO as World Heritage Site, including The Pavilion of Ali'Qapu, the palace of Safavid Kings, Sheikh Lotfollah Mosque, the private royal mosque, Abbasi Jame mosque and Traditional bazaar. Chehel Sotun Palace and Naghshe-e Jahan Square are registered site in UNESCO world Heritage. O/N Isfahan
Day 7: Isfahan-Tehran (448 km )
we will drive to Tehran , en-route stop at kashan to visit traditional houses ,drive to the IKA airport for departure flight .
Price with 5 * hotel BB
Price for 2  pax: 1105 usd per person in twin/DBL sharing room with sedan
price for single room: 1280 usd per person
Single supplement: 150 usd
Including services:
Accommodation
Transfer
English speaking guide
Domestic Flight
Entrance fees
Visa process
Excluding services:
Food
Tips
Insurance
Visa fee