Budget tour of Varzaneh sand dunes, desert life with Safari adventures and picturesque salt lake
Tour length: 14 day
1 Day:
We will meet you at the IKA and transfer you to your Hotel for rest. Overnight Tehran
2 Day:
We will visit Golestan palace and National Museum with grand Bazaar. Overnight Tehran
3 Day:
We will go to Sad Abad palace and Tajrish Bazaar for have lunch and visiting daily life of people, then go to have rest at Nature bridge and have coffee there . Overnight Tehran
4 Day:
We will take bus to Kashan, and after arrival will visit Boroujerdi house and Agha Bozorg Mosque, then rest at hotel. Overnight Kashan
5 Day:
We will go to Kashan Bazaar and visit Timcheh of Amino Doleh and sultan Amir Ahmad bathhouse, then Fin garden, then we will take bus from kashan to Isfahan. Overnight Isfahan
6 Day:
We start to enjoy Isfahan, the pearl of Islamic archeology, by visiting Chehel-Sotun Garden (WHS). This architectural masterpiece is a typical design of all Persian Gardens. We will continue our tour to Meidane Emam (Naghsh-e-Jahan Square) (WHS), to visit Imam Mosque. The undeniable beauty in design and great harmony. Sheikh Lotfollah Mosque. It enchants every viewer by its dome changing color from dawn to dusk. The Pavilion of Ali-Qapu. The building was named Ali-Qapu, which means "great gate". Ali-Qapu is rich in naturalistic wall paintings. Traditional Bazaar makes the rectangle of the square more fascinating. In the evening, we walk through Siosepol, the longest bridge on Zayandeh Rood River connecting east of Isfahan to its west. Overnight Isfahan
7 Day:
We are going to have a great day with a great start to walk around walking around Jolfa district and visit Vank Cathedral, which is one of the most celebrated example of the colorful architecture to mirror Christians' religious and spiritual concepts. After that, we will visit MenarJonban. In the Next we can have experince of weaving the Persian Carpet in a famous carpet workshop. Its notable feature is that if one of the minarets is shaking, the other minaret will shake as well. Then you will visit Jame-Mosque (WHS) and its incredible Oljaito Adytum. In the evening you will walk around Khaju Bridge on Zayandeh rood river. Overnight Isfahan
8 Day:
We will transfer with Mini Van to Varzaneh eco-lodge, after arrival will rest , have free time . Overnight Varzaneh
9 Day:
We will have a desert tour that start early morning , will visit sunrise and have a safari in desert and visit caravanserai and have lunch at the eco lodge. Then will drive to yazd ;City of Zoroastrians, transfer to hotel. Overnight yazd
10 Day:
After Breakfast, we begin by visiting Zoroastrian's Tower of Silence which a circular and raised structure built by Zoroastrians on top of a hill. Next, we have the chance to visit Yazd Fire-Temple, a place of worship for Zoroastrians, which contains in its heart a 2500-year-old fire and the museum. We then head to the Water Museum, an ancient house that shows possesses of Qanat system. Among in numerable attractions of Yazd, here we will visit Amir Chakhmakh Complex. The complex is decorated by along rectangular pool, surrounded by small shops; then we will experience walking through narrow allies of Fahadan District with tall mud and straw walls, which are reminiscent of the ancient architecture of the city and visit Jame mosque of Yazd .Overnight yazd
Day 11: Yazd- Mehriz- Saryazd-Yazd
We start the day by driving to Mehriz.to spend time in Pahlavanpour Garden this garden covers an erea of roughly five hectares, the dates back to the Qajarid era, in the next we will visit Mehr padin castle, the magnificent Minaret of Mehrpadin Jameh mosque is renowned for being single. After we will drive to Sar yazd, visit Sar yazd Castel, having many distinctive features both historically and architecturally, as it stands unique in the central desert of Iran. After that, we will return to Yazd. Finally yet importantly, is Dowlat Abad Garden (WHS), which is fame due to its tallest wind tower of the world. Overnight yazd
Day 12: Yazd-Pasargadae-Shiraz
After checking out from hotel, we will leave Yazd to Shiraz, We have a short stop in AbarKouh take rest near Cypress of Abarkuh. Then will visiting Pasargadae (WHS), where Cyrus the Great is resting for centuries. O/N persepolis
Day 13: ancient Persia -Shiraz
We will start the day by driving to the history of ancient Persia by visiting Persepolis (WHS), a complex accommodating a cluster of palaces. Then drive to shiraz and visit the well-Built fort of Karimkhan Citadel; Vakil Mosque and traditional bazaar of Vakil and Saray Moshir. O/N Shiraz
Day 14: Shiraz
In the morning, your exiting tour will begin by visiting Nasir-ol-Molk Mosque, which is known as Pink Mosque. Here, sunrays will paint the floor and the columns colors by passing through the colorful window glasses, we will visit Hafiz tomb that belongs to our well-known Persian poet and will walk around Qur'an Gate that is a historic gate in the north of Shiraz.then will drive to have domestic flight to Tehran , transfer to IKA for departure flight .
Price for each person in sharing room: 780 USD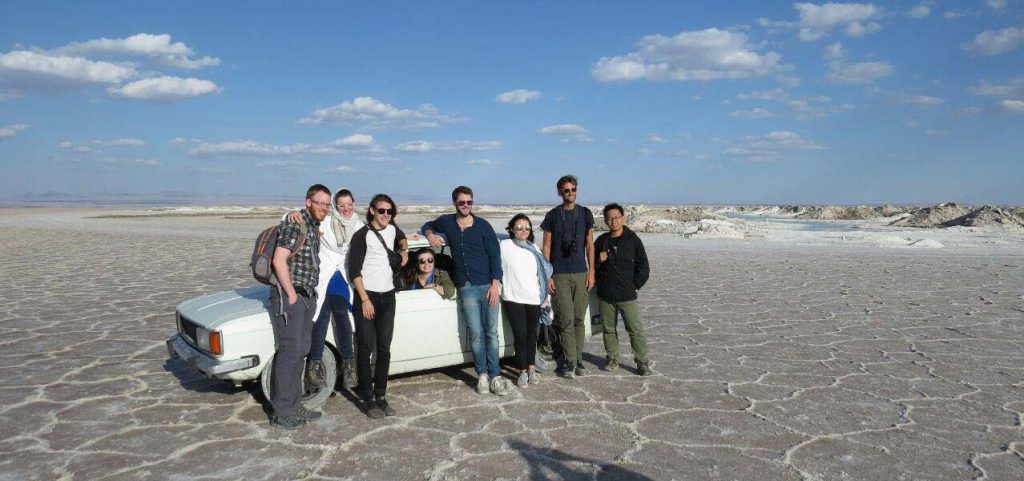 Including services:
3 star hotels and traditional houses BB
2 bus ticket from Tehran to Kashan, from Kashan to Isfahan
Airport Transfers
Transfer with van from Isfahan to Varzaneh, from Varzaneh to Yazd, from Yazd to Persepolis, Shiraz
Domestic flight from Shiraz to Tehran
Visa process
Excluding services:
Entrance fees
Guide
Vis fee
Flight
Meals
Tip