Day 1 IKA-Qom
After arrival you will meet our tour guide and drive (about 1h15) to Qom and will transfer to hotel for rest and will have free time to visit the holy shrine of Fatima Masumeh. Overnight Qom
Day 2 Qom-Tehran
We will visit the holy shrine of Fatima Masumeh and drive (2h20min) to Share Rey to visit Shah Abdol-Azim shrine, and then transfer to hotel. Overnight Tehran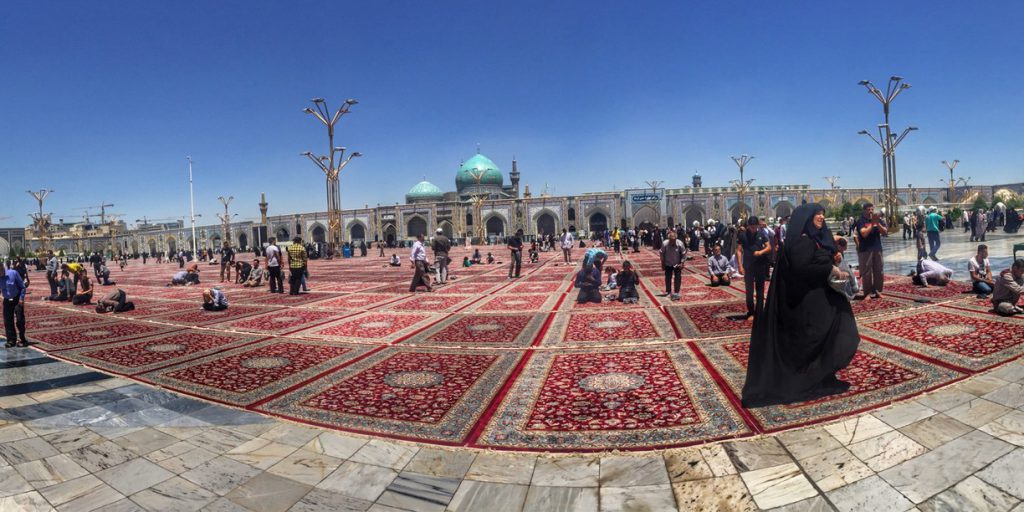 Day 3 Tehran-Mashhad
After breakfast we will drive to Tajrish to visit Imam Zadeh Saleh holly shrine, and have lunch at Darband then transfer to Mehr Abad domestic flight for fly to Mashhad, en-route will stop at Azadi tower to take photos, after arrival to Mashhad will go to pilgrimage shrine of Imam Reza, have free time. Overnight Mashhad
Day 4 Mashhad
We will have full day in the beautiful city of Mashhad, you will be going to Ghadamgah, mausoleum of Ferdowsi the grate Iranian epic poet as well as a sightseeing tour in the urban areas of Mashhad where you can witness breathtaking scenes of thousands of pilgrims in one of the holiest cities of Shiite Islam. Afternoon pilgrimage to Imam Reza shrine. Overnight Mashhad.
Day 5 Mashhad
A short trip to Mashhad's beautiful and green areas: Torghabeh and Chali Dareh Dam for boat riding and Shandiz ; Where many beautiful handicraft products are sold and you can relax, enjoy the green scenery and food. Overnight Mashhad.
Day 6 Mashhad-Shiraz
Free day in Mashhad. In the evening we will have flight to Shiraz. Overnight Shiraz.
Day 7 Shiraz
We will have a full day City tour of Shiraz to visit Nasiro – Molk pink Mosque ,and visit Zandiyeh Complex, the residential palace of Zand dynasty. We continue to visit Vakil complex, Vakil Mosque, Bazar and public bath and for rest We will chill out at the traditional tea house of Saray e Moshir to have a fully Persian experience, Afternoon visit to the Holy shrine of Shah Cheragh. Overnight Shiraz.
Day 8 Shiraz
We will have Morning tour to Eram Garden,visit tombs of poets Hafez and Saadi, Jahan-nama Gardens and the Holy Shrine of Ali Ebn-e Hamze. Free afternoon. Overnight Shiraz.
Day 9 Shiraz
Excursion to the most magnificent city of the ancient world, Persepolis. The area is composed of various reception halls and palaces, private palaces, royal treasury and fortifications. We continue our excursion by visiting Naghsh-e-Rostam, the Achaemenian necropolis (city of the dead) before returning to Shiraz. Free afternoon in Shiraz. Overnight Shiraz.
Day 10 Shiraz-Tehran-IKA
We will fly to Tehran and transfer to IKA for departure flight .
Price for each person in Twin/DBL sharing room: 1660 USD
Group size could be from 2 -15 pax
Including services:
5 star hotels with break fast
English speaking licensed guide
All airport transfers and driving during the tour
Guide and drive costs
3 domestic flights
Visa process
Excluding services
Food
Visa fee
Tips
#mashhad #qom #sacred #persia #tehran #shiraz #shrine #